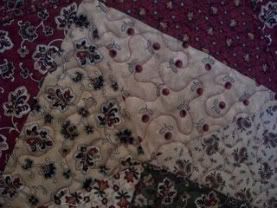 This quilt was one of my first quilts I pieced back about 4 years ago. I finally put it on the quilt frame and just did a meander on it. I am not so much into the dark colors anymore but it will still look nice in my living room, this one is mine. The binding needs to be hand sewn down so that will take me sometime.

I have to say I am

thoroughly

enjoying my unemployment but I have to remember this will end come April 1st. I can't be getting to use to this. At some point I have to work on my list of things I pledged to get done.

Raychel dropped down to 79 pounds and her spirit fell right with it. Please keep her in your thoughts.