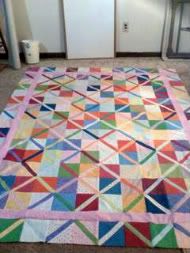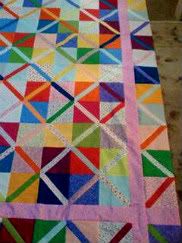 This is what I worked on this past weekend at Pat's house. I had a blast. We get along so well and it is 2 hours from home so it is a real escape for me. The first time we got together for a weekend was the first winter after Raychel got sick. I went out on a Thursday night and on Friday we sewed for most of the day and when I woke up on Saturday morning I never got out of my pajama pants. Mike, my husband, could not believe that I was at someone elses home and not getting dressed. So one of our rules is - one of the days we are together the most we can do is brush our teeth. So I went to her house on Friday and did not come home till today so Sunday was the day of just brushing my teeth. We laugh so hard that our sides hurt. I told her we would never fit in at a quilting retreat with our rules.
This quilt is called "Banana Split". It turned out real cute but it is a pattern tha
t
waste a lot of fabric and you don't realize it until you have cut all your fabric and you have to size your blocks from a size 6-1/4 down to 5-1/2. I was going to give it to Charlee (adopted 7 month granddaughter) but after all the work I'm not sure if I want to pass it onto her. Her Mom does not seem to appreciate the quilts but LOVES the polar fleece blankets. Go figure. I will have to think this one thru.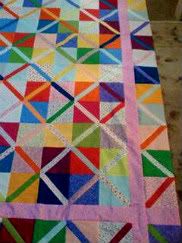 Not sure yet about New Years Eve. We were thinking about going to some friends home in Ft Dodge Iowa which is 3 hours south of us but Mike starts his cardiac rehab tomorrow and we are not sure if we want to travel on Wednesday. I guess we will figure it out tomorrow. We did buy scallops and prawns in case we stay home.
Till later.