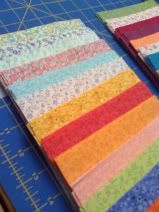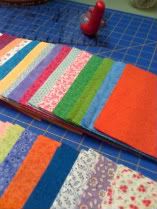 I have decided on the next quilt I want to make. It is called the banana split. I bought the pattern at a quilt show this past summer and fell in love with it. So while I was at that quilt show I bought the 32 fat quarters needed at a great buy. I am not big on pas
tels but I do like the bright colors with the pastels. I am excited to make this quilt, something new. I am giving it to my granddaughter,
Charlee
, (yes a girl) who was born in May. I'm a little behind. You can see m
y
new rotary cutter in the back ground I will post pictures about that wonderful new item I got.