I
have so much to post about so I might as well jump in. First of my sister in law, Pat, and I had a blast. She arrived on Friday afternoon and we got right to it. I had my sewing room already and her table setup. I worked on my first wall hanging that I want to hang in my entryway. All
I have to do is the binding. I have decided since this is a wall hanging I am going to use my machine to sew the binding down. I had promised that I would from this point on I would only be hand sewing the binding down. Pat was the one that
convinced
me that I need to hand sew the binding. I figure it being a wall hanging no one will see the back. So here it is: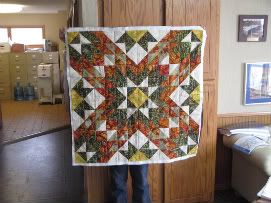 I really had fun making it. It is the very first thing that I have made just for me. I will make myself a quilt this winter

.
This one I have posted before but this is the one that I am struggling to hand sew the binding. It is not coming easily.
This is one I made for a very close friend who moved from Minnesota to Phoenix. She was very excited about decorating her house in the southwest decorations. I wanted her to have something of me in her new home. I miss her dearly. The first picture is not the best of picture (to close up) but you get the idea.